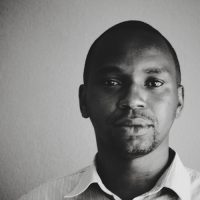 Alfred studied design at the University of Nairobi and worked in advertising as a designer and storyboard artist. He was later introduced to the world of animation after attending several animation workshops, an experience that opened up the opportunity to work on "TingaTinga Tales", East Africa's first locally produced animation series for a global audience as a lead animator. As part of The Africa Digital Media academy, he oversees the Foundation of Computer Graphics programme as well as 2D Cutout 2D Animation training. In 2014 he supervised production of Rwanda's first locally made cartoons for broadcast called Know Zone Rwanda.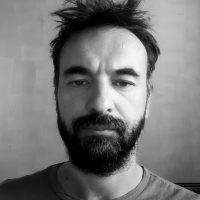 Dritero Nikqi is a composer, producer and audio engineer based in Prishtina, Kosova. As an artist/performer he has been active since the mid 90's with different projects that he founded, which became seminal bands in the post-war scene of the region, such as por-nó and Retrovizorja. Trained as an audio engineer in the UK, since 2006 he is the owner and in-house engineer at Studio C; the recording studio that spawned most important acts in the alternative, post-rock, ambient music in Kosova. For much of the last decade he has been working between Prishtina and Berlin with a partner in Cop Shop studio, Michael Haves, in producing local scenes and soundtracks to films.
Written and composed music to documentary and full feature films, most recently the film Zana, officially selected to represent Kosovo in Oscars 2019. Dritero also has experience in exhibition sound installation such as DATA:Mars, and 7 and most notably the recent sound instalation work as a part of Kumbima team for the Tbilisi Architecture Biennial.
Member of music projects like Ambasadi, Tetris and This Is Not in audio-visual performances of experimental instrumental pieces. Teaching experience includes a series of lectures the last five years under Guerilla Recording, creating the curriculum and lectures for Tulla Noise Lab in Tirana, AL, and recently organizing and lecturing at Neo School for Electronic Music Production at Armata, Prishtina. Currently a commissioned artist in the reanimating of architecture/sound VR project for ReSpace, AHRC.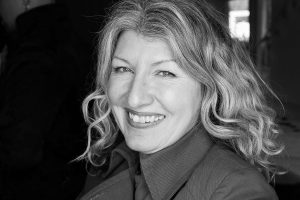 Susan Sloan is an artist and lecturer based at the National Centre for Computer Animation, Bournemouth University. Coming from a background in sculpture and installation she works collaboratively and individually, using computer graphics technologies such as 3D modelling, scanning and motion capture processes to create artworks and site specific commissions. Her work Studies in Stillness; Motion Capture Portraits was exhibited at the Photographers Gallery, London; International Symposium of Electronic Arts, Istanbul and Salisbury Art Centre.
This work examined the relationship between motion and identity in the form of digitally sculpted portraits. She also works in participatory settings with communities within and outside the UK. Recent participatory work includes short film and animation works with the Quijos Nation in Napo province, Ecuador. She has exhibited her work nationally and internationally including the SIGGRAPH Gallery, San Diego; 404 Festival, Argentina; IVO3 London; IVO6, London, Sydney; Kunstihoone Gallery, Tallinn, Estonia; Yokohama Art Museum, Japan; and Glasgow International Festival.